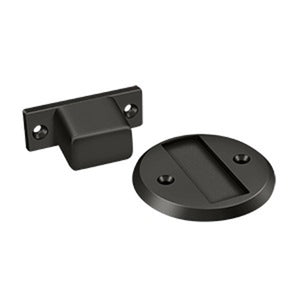 Deltana MDHF25 2-1/2" Flush Magnetic Door Stop - Solid Brass
PRODUCT DESCRIPTION
Deltana MDHF25 2-1/2" Flush Magnetic Door Stop
About this product:
Deltana's MDHF25 2-1/2" Flush Magnetic Door Stop is an elegantly styled magnet door stop and holder which is great to use when you need a very low profile floor mounted base to reduce the risk of potential tripping or to ease floor cleaning. The round strike plate is 2-3/8 inches in diameter and mounts flush on the floor. Use this floor bumper as an effective door stop to protect your door, door hardware, and wall from unnecessary damage. 
Solid brass construction ensures quality and durability. A large selection of standard finishes is available. Deltana also offers custom finishing. Please contact us for details and pricing.
Deltana items are ready to ship in 7-10 business days. Please note that the estimated delivery times do not include the product handling times. If you are ordering products that have different handling times, the order will ship complete based on the longest handling time. If you want your products to ship separately, please contact us.
 Product Features:
Part number MDHF25
Solid brass construction for durability and quality
Includes all necessary mounting hardware
Available finishes: Polished Brass (US3), Antique Brass (US5), Oil Rubbed Bronze (US10B), Brushed Nickel (US15), Antique Nickel (US15A), Paint Black (US19), Polished Chrome (US26), Brushed Chrome (US26D), PVD Polished Brass (CR003)
Custom finishing available. Go beyond the large selection of standard finishes and let us help you match your imagination.
Deltana offers a

 

Warranty

 

to the original user
California Residents

 

Proposition 65 Warning
PRODUCT SPECS
Deltana MDHF25 2-1/2" Flush Magnetic Door Stop

About this product:
 Product Specs:
Strike Base Diameter: 2-3/8"
Strike Base Height: 1/8"
Magnet Base Length: 2-1/4"
Magnet Base Height: 3/4"
Magnet Base Projection: 1"
Maximum Door Clearance to Strike: 3/4"
INSTALLATION
Deltana MDHF25 2-1/2" Flush Magnetic Door Stop

About this product:
Deltana's MDHF25 2-1/2" Flush Magnetic Door Stop is easy to install with the provided mounting hardware. Position so that your door makes contact with the bumper before the door handle touches the wall (or at the desired stopping position), protecting your door, door hardware, and wall.
Product Installation:
The magnet is screwed on bottom of the door. When the magnet approaches the strike, an arm raises up to 3/4 inch to stop and hold the door.

Packaged complete with mounting anchors and matching finish mounting screws.

The magnet must be mounted within 3/4" of the strike plate. If the bottom of your door has more than 3/4" of gap to the floor it will NOT work properly.
ORDER HELP
Ordering the correct hardware is occasionally a confusing process. We are ready to assist with any questions you may have. Please feel free to contact us for assistance. Customer Service is available by phone Monday - Friday, 9am - 5pm EST. See the "Support" tab above for more information.
---
You May Also Like