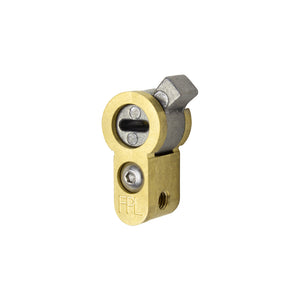 FPL 7000-ACA American Cylinder Adapter
PRODUCT DESCRIPTION
FPL 7000-ACA American Cylinder Adapter
About this product:
FPL's 7000-ACA American Cylinder Adapter is made of brass and stainless steel to ensure durability and quality. The adapter is designed to convert a multipoint mechanism that requires a profile cylinder to accept an American style tail piece. Most FPL items are in stock and will be ready to ship in 1-3 business days.

 Product Features:
Solid brass and stainless steel construction for durability and quality
Simple alternative to replacing an entire multipoint gear mechanism
Please note: This adapter allows the cam to travel only 90 degrees. It will not work with mechanisms that require a complete 360 degree turn.
Please note: This adapter will not work with European mechanisms requiring multiple full revolutions to extend a deadbolt all the way out.
Includes all necessary mounting hardware
California Residents

 

Proposition 65 Warning
INSTALLATION
FPL 7000-ACA American Cylinder Adapter
About this product:

The 7000-ACA American Cylinder Adapter is designed for easy installation and includes all necessary mounting hardware.

Product Installation:
No need to disassemble mechanism to install

ORDER HELP
Ordering the correct hardware is occasionally a confusing process. We are ready to assist with any questions you may have. Customer Service is available by phone Monday - Friday, 9am - 5pm EST. See the "Support" menu tab above for more information.
INSPIRATION
In need of some inspiration? Take a look at these links:
---
You May Also Like