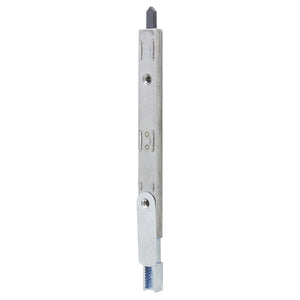 FPL IM2-150 Multipoint Mechanism Reverse Action Shootbolt
PRODUCT DESCRIPTION
FPL IM2-150 Multipoint Mechanism Reverse Action Shootbolt
About this product:
FPL's IM2-150 Multipoint Mechanism Reverse Action Shootbolt is made of stainless steel and can be used on various FPL mechanisms, such as, 2025 5-Point Multipoint Tongue Lock, 2030 2-Point Inactive Multipoint Lock, 7002 2-Point Inactive Entrance Multipoint Lock, and 7003 3-Point Entrance Multipoint Lock. Most FPL items are in stock and will be ready to ship in 1-3 business days.

 Product Features:
Durable stainless steel construction
Designed as a locking point for the top of a multipoint mechanism, locking into the door trim

Please note:

 

The #2 shootbolt strike comes with a strike driver that is used to install the strike
California Residents

 

Proposition 65 Warning
PRODUCT SPECS
FPL IM2-150 Multipoint Mechanism Reverse Action Shootbolt
About this product:
 Product Specs:
Width: 5/8"
Length: 5-29/32"
Length when engaged: 6-9/16"
ORDER HELP
Ordering the correct hardware is occasionally a confusing process. We are ready to assist with any questions you may have. Customer Service is available by phone Monday - Friday, 9am - 5pm EST. See the "Support" menu tab above for more information.
INSPIRATION
In need of some inspiration? Take a look at these links:
---
You May Also Like